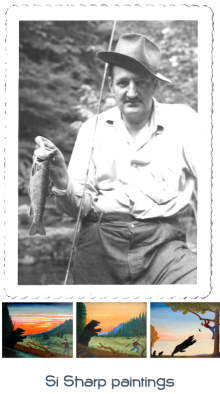 The Art Work of Si Sharp
My great uncle Si Sharp (b. 1907 d. 2002) was a 6th generation descendant of Pocahontas County pioneer settler William Sharp, Sr.
Si was an accomplished watchmaker, gunsmith, barber, farmer, artist and painter.
Through his naive paintings (in a style similar to that of Grandma Moses or other primitive painters) Si revealed his memories and recollections of his many trips and life experiences. I am pleased to be able to share his works with you, reprinted and available here as collectible gift card sets. PLEASE COME BY THE STORE TO TAKE A LOOK!
~Gift cards are printed on Crane Museo acid-free stock, and are sold singly with envelope. Dimensions are 7 3/8"W x 5 1/2"H (e.g. C1), 5 1/2"W x 7 3/8"H (e.g. C17), and 9 1/8"W x 3 7/8"H (e.g. C18).
There are no items at this time.